The Diamond Line was originally named such in homage to our state gem, but a name carries the narrative weight of its symbols. Someone could cut into their very soul with a diamond, and that's how poems and stories and paintings are created; by being carved out with something so sharp it leaves us raw. As such, we are dedicated to showcasing emotional truths and authenticity. We have committed ourselves and our magazine to allowing people to dig as deep as they can until they find their own rare and beautiful gem.
The Diamond Line showcases original visual art, fiction, and poetry by University of Arkansas undergraduate students.
Current Issue: Volume 1, Issue 1 (2020)
The first issue of the magazine is credited to the diligence of our staff and the support of all our contributors. Thank you to those who submitted, and to those who will in the future. We hope our readers will be able to see the potential and talent that we see in the featured contributors and showcased works. We aspire for the first issue of The Diamond Line to be something readers can come back to again and again.
Front Matter
Entire Issue
Stories
Poems
Visual Art
Letter to the Editor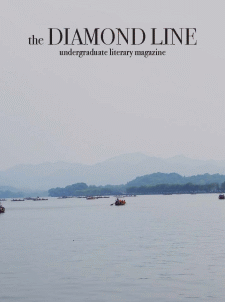 Editorial Teams
Editors in Chief

Joaquin Gavilano
Lexie Price
Allison Tucker
Managing Editors

Jese Espenschied
Elizabeth Muscari
LeReesa Tallent
Fiction Editor

Lauren Dial

Fiction Editorial Team

Rylie Frederick
Elise Lusk
Hannah Reed
Selina Verghese
Poetry Editor

Claire Hutchinson

Poetry Editorial Team

Sammy Childress
Macklin Luke
Visual Arts Editor

Lucas schrader

Visual Arts Editorial Team

Lauren Dial
Mattison Grant
Faculty Advisor

Jane Blunschi