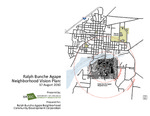 Abstract
The Ralphe Bunche Neighborhood Vision Plan provides a general design framework to spur reinvestment in this 100-year old historic African-American neighborhood in Benton, AR. The plan aggregates attainable housing (under $100,000/unit) around two neighborhood parks―one existing, and one proposed. Since the city cannot afford comprehensive street and drainage improvements to accommodate redevelopment, the proposal retrofits streets and open space with Low Impact Development (LID) landscapes to remediate urban stormwater runoff. Housing unit types between 1,000 and 1,750 square feet are amassed around these LID landscapes and amenitized with screened rooms, balconies, terraces, and multiple-height living spaces.
Description
The Ralph Bunche neighborhood is an African-American community founded in the early 1900s on a hill next to downtown Benton (pop. 30,680) by workers employed in the local bauxite mines. Still a close-knit community with deep social capital―it has seven active churches and a nonprofit development corporation among 300 dwelling units―the neighborhood has experienced decline due to lack of reinvestment by recent generations who have moved to middle class suburban neighborhoods. While Benton's median household income is $47,500 (94% of national average), the RB neighborhood's median is $30,000 with 27% of its families below the poverty level. The Ralph Bunche Agape Community Development Corporation, with funding from the federally-mandated Central Arkansas Development Council, commissioned the project team to develop a revitalization plan. Through design workshops held with residents, the team proposed an infill revitalization strategy calling for development of two pocket neighborhoods on two remaining large-scale property holdings. With the new plan, the client development groups are collaborating with the City of Benton and Metroplan (Central Arkansas' designated MPO) to steer new capital and grant investments toward the neighborhood. The goal is to provide an identity as well as a catalyst that recharges the RB neighborhood with workforce and family populations who wish to live closer to downtown but can't afford the median house price. A secondary goal is to incent further individual improvements in existing properties.
Essentially a neighborhood within a neighborhood, a pocket neighborhood is an identifiable cluster of houses organized around a shared outdoor commons within a larger neighborhood. The revitalization plan begins with selective aggregations of affordable housing ($100K units) around two neighborhood parks: one existing, and one proposed, each on topographically-challenged sites. Since the city cannot afford the required street and drainage improvements (over $3.5 million) to accommodate new investment, the proposal integrates Low Impact Development (LID) landscapes in the open space network to remediate urban stormwater runoff and control flooding, as required of new development. Stormwater management is shifted from piped streets to ecologically-based vegetative treatment systems that structure the pocket neighborhoods' landscapes, eliminating the costs of new streets, which now stand at $450/linear foot. These productive landscapes, occupying parks and right-of-ways, deliver new ecological services while calming traffic, increasing security, and creating superior neighborhood environments. Since conventional concentrations of affordable-rate homes rarely enjoy appreciation in value, the pocket neighborhood system is a viable development strategy for sustaining home equity among low-income homeowners.
Keywords
urban design, low impact development, architecture, neighborhood development, smart growth, shared streets
Disciplines
Architectural Engineering | Environmental Design | Landscape Architecture | Other Architecture | Urban, Community and Regional Planning | Urban Studies | Urban Studies and Planning
Awards
2011 Residential Architect Design Merit Award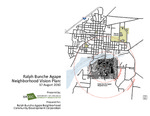 COinS