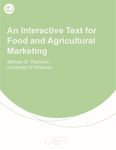 Title
An Interactive Text for Food and Agricultural Marketing
Subjects
Agribusiness | Agricultural Economics
Keywords
agricultural economics, food, agriculture, marketing
Educational Sub-Level
College / Upper Division
Description
An Interactive Text for Food and Agricultural Marketing. This is a web-based text. It includes interactive demonstrations and problem sets designed to help students better understand the textual content.
The text itself is written in R markdown language with embedded R Shiny Apps that provide the interactive content. The text is accessible and fully functional on mobile browsers. The text is hosted on a dedicated Red Hat virtual machine running R Shiny Server.1 An Interactive Text for Food and Agricultural Marketing has been released with a Creative Commons Attribution-ShareAlike 4.0 International License. The markdown files are available on GitHub (https://github.com/thomsen-m/FAM-OER) in a format ready to be deployed on an R Shiny Server. Chapters of the text can also be downloaded and viewed locally on any PC with an R installation (https://cran.r-project.org/). R is open-source and runs on Linux, Mac OS or Windows.
Institution
University of Arkansas, Fayetteville
Creative Commons License


This work is licensed under a Creative Commons Attribution-Share Alike 4.0 License.
Collection
University of Arkansas Open Educational Resources
Requirements
R programming language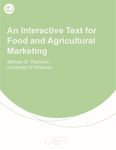 COinS