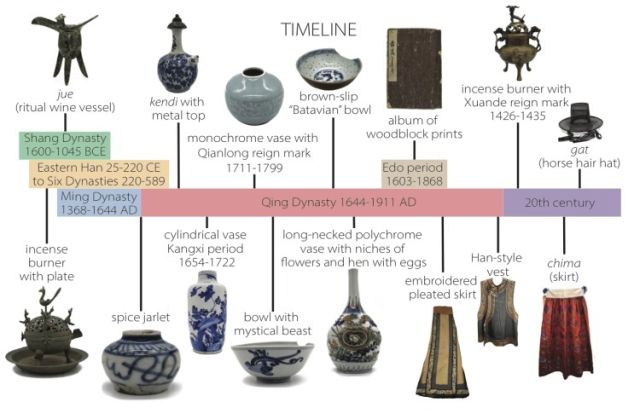 Preview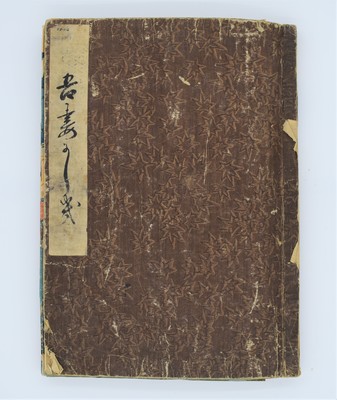 Photo Credit
Laurel Lamb, Curator, University of Arkansas Museum
Object Date
19th century, Edo period Japan (1603-1868)
Object Type
Woodblock prints on paper, various pigments, bound in heavy weight brown paper
Description
This Album of Woodblock Prints brings together forty-eight pages bound in a heavier weighted brown paper. Most of the prints are attributed to one of the late great print masters of the Edo period (1603-1868), Utagawa Kuniyoshi (1798-1861). Kuniyoshi deliberately separated himself from other artists in his choice of subject matter, creating pieces that celebrated warriors, entertainers, and cats. Kuniyoshi's technique, furthermore, demonstrates vibrant colors, patterns, and composition. His prints, widely distributed, were collected and assembled in albums such as this.
Many of Kuniyoshi's prints are diptychs or triptychs. The diptychs in this collector's album open as any other book pages, while the triptychs require an extra page that folds out. In the majority of the compositions, each page could be read alone; however, when coupled with its one to two counterparts, it illustrates a more vibrant story. For example, in the print to the left, Kuniyoshi designed the setting for each figure so that it could be viewed as an individual print. However, upon unfolding the pages, a whole scene of three figures interacting in the same room comes into view. On the left-most page sits the woman with the highest status. This can be deciphered by her clothing and hair, which is more ornate than the other two women. The woman in the middle shares a similar status as they are both seated and dining together on fish and sake. Notice the classic blue-and-white ceramic serving bowl and sake bottle, not unlike those seen in this exhibition. A younger woman bowing is the main focus of the third panel. She is likely an apprentice performing for the two seated women. Visible on all three pages of this print are several signatures, the nanushi, or censor's seals, followed by Kuniyoshi's signature, and then his artist's seal in red. To the left of these marks is more writing in a vertical rectangle, which is the publisher's seal.
Each of the forty-eight pages of this book features eight to twelve colors, which indicates the carving of at least eight to twelve woodblocks for each color. This triptych (left) displays nine colors, and since it consists of three separate prints, it required at least twenty-seven woodblocks. Printing and layering each color lightest to darkest on the paper renders a print. As long as each layer lines up correctly, the print will come out the same each time. With the original woodblocks, the reproducibility could be endless. Even without the original woodblocks, a highly skilled and knowledgeable printmaker could produce a copy. Thus, making any woodcut print designed to be one of many. With multiple printings, however, one can detect spaces between the colors due to individual worn-down woodblocks. A number of prints in this collection show these gaps between color lines, but also retain the rich colors and lively scenes designed by this last great master printmaker of "the floating world" of Edo Japan.
Object Dimensions
L. 36.4 cm, W. 26 cm, H. 2.5 cm
Object Housed
University of Arkansas Museum
Object Accession Number
0058-0001-0002